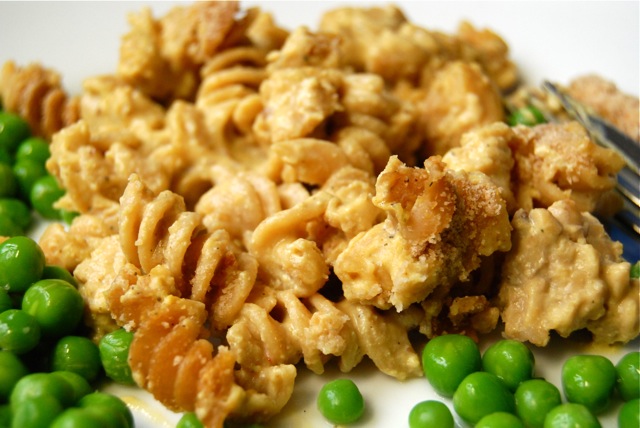 Cheeze has been part of the veggie lexicon since that first irrepressible dairy craving gave birth to fake cheese. In this recipe, cheeze is a combination of tofu, low-sodium vegetable broth, nondairy milk, nutritional yeast, lemon juice, salt-free mustard and seasonings. Like I said, cheeze.
The "burger" portion of the meal is actually crumbled and sauteed tempeh seasoned with a tablespoon of low-sodium soy sauce – in this case, Coconut Secret Raw Coconut Aminos.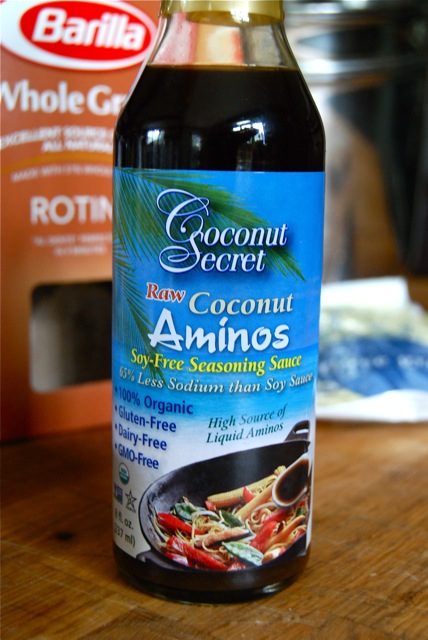 Sue Tweeton of Please DON'T Pass the Salt wrote about it months ago and within days I'd nabbed a bottle myself. Coconut Aminos is 100% organic, vegan, gluten-free, soy-free, and GMO-free. It doesn't taste exactly like soy sauce, but it's close enough to pass muster — and at a mere 113 mg sodium per teaspoon, close enough is fine by me. Look for it online, at Whole Foods markets, and natural foods stores.
As for the recipe… YUM. Creamy, whole grain comfort food at its best. Like the coconut aminos, this mac and cheeze isn't a shoo-in for the classic. But just because it's different, doesn't make it bad. Even my 8-year old loved it! The creaminess is all there, as well as the crunchy topping. Feel free to add veggies to the mix for a one-dish meal. Peas and broccoli work particularly well or expand it exponentially with chopped onion, garlic, bell pepper, corn, carrots, and more.
Adapted from Robin Robertson's Quick-Fix Vegan.