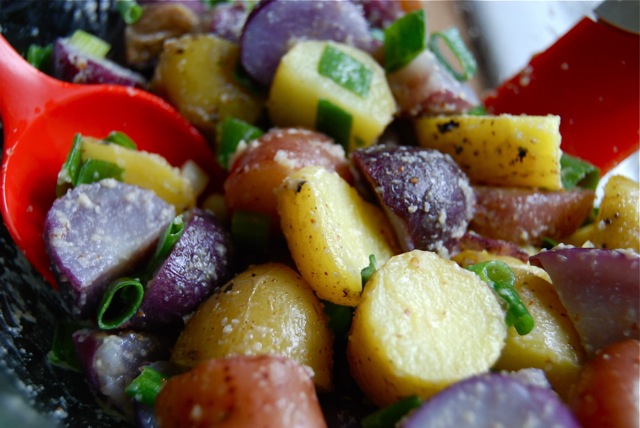 In honor of Independence Day, this week's Meatless Monday has been preempted in favor of Red, White, & Blue!
I bought a bag of specialty potatoes several weeks ago. They're tiny little guys, sort of a cross between fingerlings and new potatoes, and came in the three colors above. I could almost hear the Star Spangled Banner playing in my head as I set to concoct a simple recipe that would showcase their beautiful colors. And here you have it. A low-sodium potato salad with such fabulous flavor you won't believe it's salt free! BONUS? Since it contains no mayonnaise, you can leave it outside on the picnic table and not worry about sending your friends and family to hospital with food poisoning! HOORAY!
If you can't find smaller size multicolored potatoes, don't worry. Just use what you have. Depending upon the size of the potatoes, you may need to steam them a bit longer. Keep watch and as the minutes pass, test them by piercing gently with a fork. You want the potatoes to be tender, yet not so soft they fall apart when tossed with the dressing. If you don't have a fancy steamer, don't sweat that either. A pasta pot with a colander type insert works perfectly. And if you're exceptionally patriotic, feel free to stick little American flags all over the potatoes.
Happy Fourth of July, my friends!! Let the barbecuing begin!